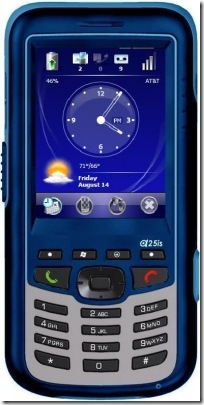 No, he is in fact not angry at his phone.
If you work around inflammables and explosives, Airo has a Windows Mobile handset for you.
Airo has announces the new A25is Intrinsically Safe handset is available for delivery Q4 of 2009. Airo is releasing the A25is for people in industries that operate in potentially explosive environments like Petroleum, Chemicals, Fertilizer, Coal, Propane, Fuel Distribution, Refineries, Paint Processing, Granaries, Mining, Alcohol Processing, Oil Platforms, Natural Gas, and Solvents among others.
The A25is underwent intrinsic safety certification testing for both the UL 913 (North America) and the ATEX (EU standard). The A25is meets rugged military specifications (MIL-SPEC 810-F) and is also certified IP67 for shock-proofing and water immersion, meaning it thrives in dirty dangerous industries. It also has a long list of other global regulatory certifications (PTCRB, FCC, UL, IC, CE, and GCF).
The A25is improves ROI by reducing equipment purchases, absorbing functionality of a variety of other equipment into a single convenient handheld unit that survives in rough, ex-hazard environments. It can replace vehicle telematics, enterprise data devices, laptops with air cards, and extra cell phones at much lower cost. It provides cell phone and Push-to-Talk (PTT) capability, is equipped with super accurate GPS, runs on the Windows Mobile 6.1 platform and accesses unique and powerful business-critical functions.
The smartphones features UI enhancements by SPB which increased finger-friendliness and ease of use.
Read more at Airo here.