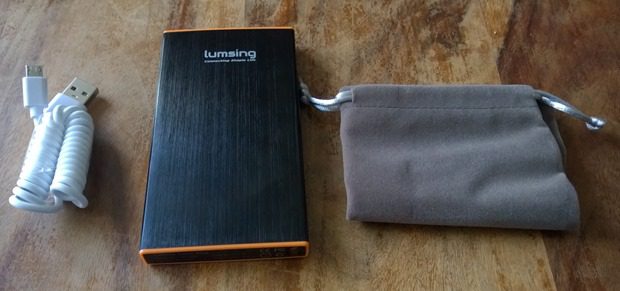 We recently reviewed the Lumsing LUM-008 10400 mAh Powerbank and liked it a lot.
The company now has a new product on the market, the Lumsing PBJ-6200 6000 mAh Powerbank, and agreed to send us a unit to review.
As usual with Lumsing's products, the device is well packaged, and comes with a simple but usable slip case and in the case of the PBJ-6200 a twisty USB cable that can be used both for charging the device and also when plugged into a different port your accessory. It does not include a mains to USB power adaptor, but charging via a standard microUSB port it will charge from any of your existing adaptors.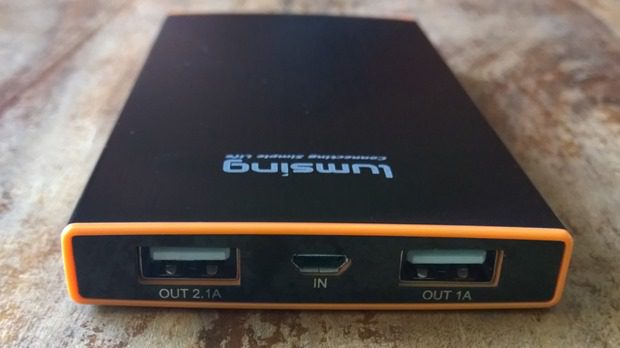 The device is 4.88x 2.64 x 0.51 inches  (124 x 67 x13 mm) and weighs 6.56 ounces (186g).  It features a one microUSB charging port and two full-sized USB ports, one which delivers 1 A and the other 2.1 A.

On the right side there is 4 indicator lights which indicate charge level, and a button which activates this.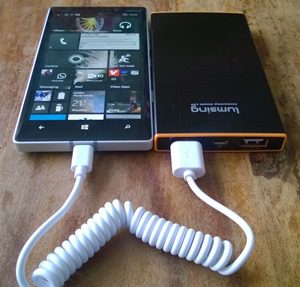 The surface is made of an attractive brushed aluminium shell with electroplated buttons, and certainly looks premium enough.
The 6000 mAh capacity of the included Lithium Polymer battery takes a maximum of 5 hours to fully charge from a typical USB port, and is enough to charge your typical smartphone 2-3 times. It will also charge iOS devices.
In fact the device is powerful enough to power both ports at the same time, meaning both you and your companion could top up your devices, or with a tablet like the Toshiba Encore, which has a microUSD charging port, you are able to charge both your phone and tablet at the same time.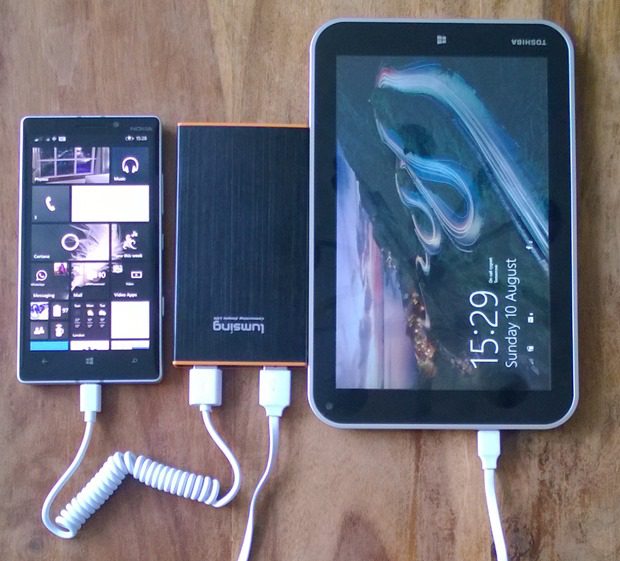 When traveling with the Lumsing PBJ-6200 any concerns of running out of juice is certainly a thing of the past, and with battery life being the main issue troubling consumers this is certainly reassuring.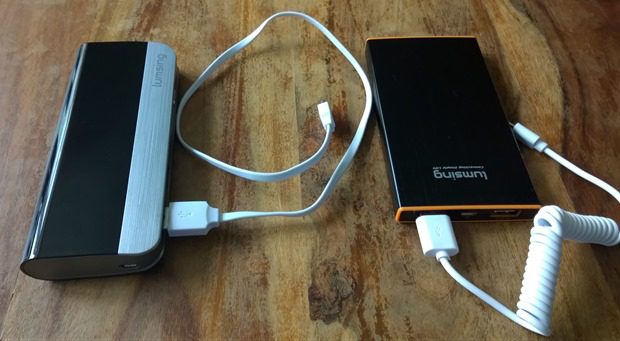 The Lumsing PBJ-6200 6000 mAh is $27.99 on Amazon (£14.99  on Amazon UK) which is slightly more than the much more capacitous but older Lumsing LUM-008 10400mAh Powerbank (right), which retails for $22.99 on Amazon (£16.99 on Amazon UK) but the 6000 mAh device is more portable and frankly easier to pull out at the table due to its more stylish design. I prefer the flat cable to the 10400 mAh device however.
Overall however whichever device you chose I don't think you can go wrong.
Thanks to Lumsing for the review device.