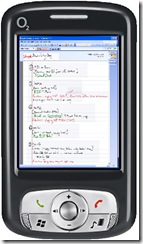 OneNote on the desktop is pretty cool, but the mobile version is rather disappointing, not supporting inking very well for example.
Microsoft's David Rasmussen has promised an improved version of this app will be available with OneNote 2010 that promises not only that your notes will be available everywhere through web sync, but that an improved, fuller Windows Mobile version will be coming to take advantage of it.
The new version will be able to sync whole notebooks and be able to sync directly to Windows Live and support richer editing support.
Read more about the updates to OneNote 2010 here.