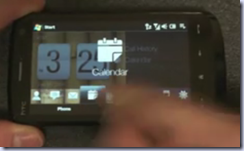 Pocketnow has published this video of the latest version of TouchFlo3D running on an HTC Touch HD, and notes a variety of changes, much more than really expected:
Of note are the following:
Landscape touchflo3d
New, better keyboard
Much revised softkey menus, which are huge and easily fingerable.
New contact screens with unified communication views
New conference call wizards
Facebook integration with the contact screen.
Calendar in TouchFlo3D
New clock/alarms screens
New stocks screens.
"Push" websites.
New calculator
New notification screens.
See the video demonstrating some of the new features below. If there is any more that we did not notice or did not mention please let us know in the comments.
Via Pocketnow.com