Windows Phone Verizon users rejoice! Most of you should now have the latest software/firmware combination for your device as Verizon updates one of the last remaining hold-outs to Windows Phone 8.1 Update. The high-end Ativ SE has now received the Windows Phone 8.1 Update 1 from Verizon wireless to bring new features and capabilities.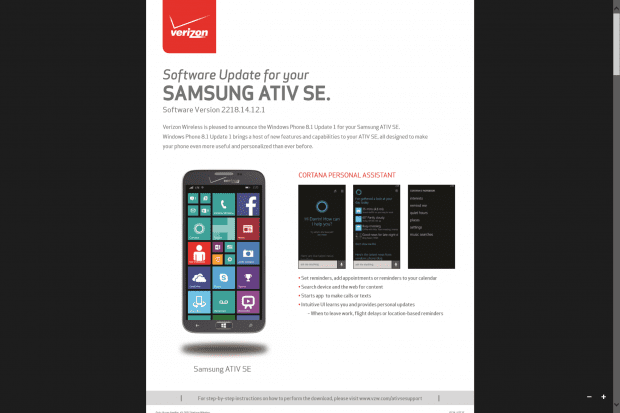 Here's what's new in 8.1.1 for those who need a refresher:
Folders. Folders let you organise your Start screen the way you want. Just push one Tile on top of another one to create a folder and get going.

Messaging. Combine multiple text messages into one, then forward them to someone else.

Selection. With improved selection, you can now delete multiple calls, messages or contacts.

Apps Corner. Apps Corner lets you specify apps that other people can use on a Windows Phone. Great for individuals and any-sized organisations who only want to provide the essential apps for others to use for work, school or any other reason.

Cortana. There's now another way to start Cortana from a Bluetooth hands-free system in your car – just tap the contact named "Cortana" and ask her whatever you want. And you're now able to do more things without unlocking your phone too, making your personal assistant even better.

Store. The new Live Tile for Windows Phone Store helps you discover new apps and games. Just pin the Store to Start and you're ready to go.

Internet Explorer. Improvements to Internet Explorer 11 for Windows Phone give you a better browsing experience on your phone. Spend less time panning and zooming and more time enjoying some of your favourite websites.

Alarms. Now you can customise the snooze time for an alarm, then enjoy a little more shut-eye for the time you want.

Accessory apps. Use accessory apps to get notifications from your phone on your smart watch, active phone cover, fitness tracker or other kinds of accessories.

Internet sharing. Now you can share your mobile data connection over Bluetooth, so you can get an Internet connection on more kinds of devices.

VPN. VPN now supports L2TP, which lets you connect to more VPN services. Whether you connect to a VPN for work or personal use, you can do it on your Windows Phone.

Narrator. Narrator now has touch typing and a way for you to turn off hints for controls and buttons if you don't want them read aloud. Some other improvements to Narrator help you unlock your phone a little more quickly, find and use the Back, Start and Search buttons more easily, and tell you when your phone screen is on or off.

Phone update. Install updates when you want by scheduling them for a time that works best for you. And if your phone supports SD cards, it will now detect if you're running low on space when updating and use the SD card. (Scheduling an update is available after updating to build 8.10.14203.206. Support for using your SD card for updating your phone depends on your phone model and manufacturer.)

Battery Saver. Keep an eye on your battery power from your Start screen. Just pin Battery Saver to Start and the new Live Tile will show you at a glance how much battery power you have left. (This feature is only available for phones running build 8.10.14203.206.) To get info about the latest features, see the Battery Saver app in the Store.

Mobile data. Add mobile data as a quick action, then turn your data connection on or off with one tap in action centre. (This feature is available only for phones running build 8.10.14219.341.)
Samsung phones also get – like HTC, Lumia and Acer devices -a custom camera app. Ativ Camera. This app provides basically all of Samsung many features from its stock Android camera app such as best face, HDR, Still capture during recording and video stabilization. Enough to tempt folks to pick up that 13 MP camera and go take some pictures.
Have you gotten the 8.1.1 update on your Ativ SE? Let us know in the comments.
If you haven't that's all right, you should get it in the coming hours!