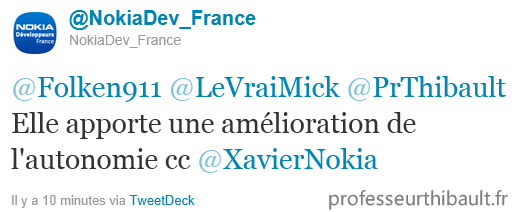 According to the French Nokia Developers twitter account the recent update for the Nokia Lumia 800 which brought it to build 7740 did not only fix the Exchange 2003 and Visual Voice Mail bugs, but also "Provides an improvement in autonomy" or battery life.
The Nokia Lumia 800 was expected to have 2 updates to increase battery life, with the second actually increasing battery capacity by enabling fast charging and increasing the used capacity from 1300 to 1450 mA.
Having used a Lumia for a while I have not noticed any particular battery life issues, before or after the update. Have any of our Nokia Lumia 800-using readers experienced such improvements? Let us know below.