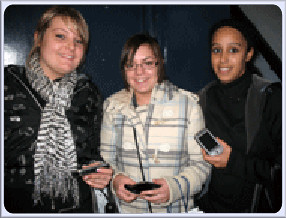 Over 500 hairdressing students from Trafford Colleges and Stockport College are taking part in one of the UK's largest mobile learning projects.
Hairdressing students as well as students receiving additional learning support were provided with a T-Mobile MDA VArio III's worth £500. For the first time ever students were able to play learning games, write up assignments, conduct internet research, take photos or videos, create learning blogs and access the College student intranet through the college's virtual private network (VPN) – wherever they are. The devices were also used to email peers and tutors.
"It was intended for students who could not access other learning materials, for instance when they are travelling to assignments or when they are on work placements," says Stockport College Learning on the Go Project Manager Amira Alicehajic.
The £300,000 Learning on the Go project aims to enhance student success rates, add value to the learning experience and attract new students. The interactive learning materials, produced by the University of Manchester, can be accessed 24/7 through the wireless mobile devices.
Said Alicehajic, "Since young people interact with their mobile phones everyday, it seems logical to use this phenomenon for the benefit of learning and making learning more interactive and fun. Stockport and Trafford Colleges are hoping to enhance the learning experience, make it easier for students to revise wherever they are and develop a mobile learning model to apply across the Colleges in the future. The project will also make it possible for our students to share their learning experience with one another and their tutors through tools such as an online blog on their phones."
ILT and Learning Resources Manager at Trafford College, Sheena Palmer, commented on the project, "Rather than preventing students from using their mobile phones, Learning on the Go enables us to embrace mobile technology and actively encourage its use as part of our teaching. The project is an excellent opportunity to support students in their achievement and helps them to recognise that learning is part of their everyday life."
The project launched in February 2008 and has won the esteemed 'Tertiary, FE, HE and Adult Innovation Award' at the Handheld Learning 2008 Conference on October 13th. The winner was selected on the basis of the number of public votes received.
Stuart Smith, the Hairdressing Training for Mobiles Project Lead, reflects on the success of the resource; "Delivery on mobile devices enables students to access this invaluable and highly practical resource, without a computer, at any time and any place; whether they are working in the classroom, the salon, or at home. It's exciting that with our involvement with the MoLeNET Projects"
An example of the type of material accessible can be seen here.