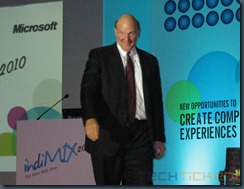 The Strange Steve Ballmer quotes are coming out of India thick and fast.  The latest, reported by Techtickerblog, is from a presentation by Steve Ballmer at the Microsoft  IndiMix 2010 conference where he showed a slide claiming 50 Windows Mobile smartphones in 2009, and a full 30 coming in Q3 2010.
30 smartphones so close to the end of the year can only suggest the launch of Windows Phone 7 in the quarter, which is certainly much earlier than we expect.  On the other hand, Steve did say he was going to accelerate things…
Anyone with a link to a video of the keynote would be much appreciated.
Read more at Techtickerblog here.