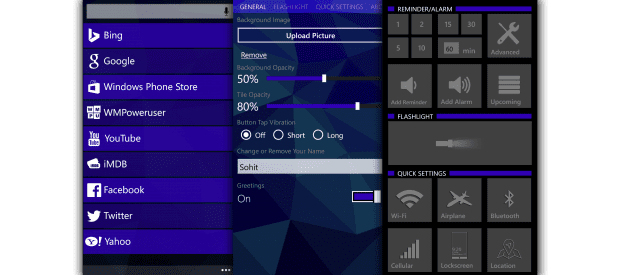 2econd Screen is the most personalized way to complete your tasks quickly (previously known as [SPK] Second Screen).
Why buy a separate app for flashlight, reminders, and more if you can get it all in one?! For the one time price of $1.99 you will receive all of the following features and many more updates in the future.
This app includes:
» Quick Reminder/Alarm + Live Tile
» Flashlight/Colored Screen + Tiles
» Universal Search + Tile
» Music Controls
» Quick System Settings (Wi-Fi, Bluetooth, etc.)
» Customizable display (background image, personalized greetings and more)
» Much more!
Coming Soon:
» Stop Music! – The much awaited feature will soon come to 2econd Screen
» Music Tiles – Quickly play your music right from your start screen
» Quick Setting Tiles – Access all phone settings from your start screen
» Theme Selection – Change the color of the Interface
» and much more!
At only 6MB, this application won't take up much space on your phone, but will deliver a high quality method to get your job done.
Some User Reviews:
"Excellent application, has everything I need on hand"
– Diego A. (Translated to English)
"The most unique app on the market! Beautiful UI and Simple Interface. Awesome work!"
– Pranav
"Really good. Runs smooth and has all the functions I would ever need."
– Sherwin
and more.
You can download 2econd Screen for $1.99 by clicking here.