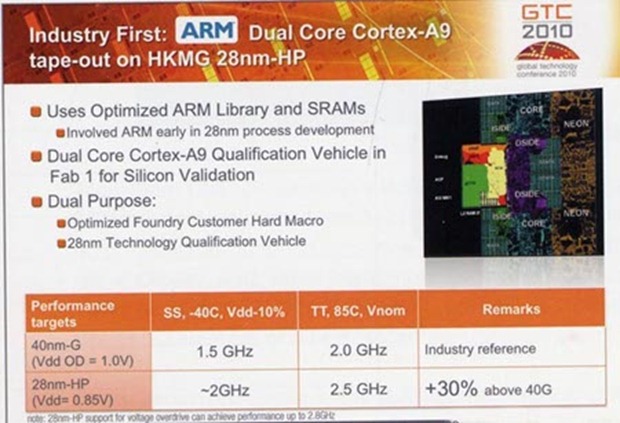 WindowsforDevices write that Globalfoundries  has reached a "significant milestone" in its production of 28-nanometer ARM Cortex-A9 processors, with silicon expected in late 2010. The chips could run as fast as 2.5 Ghz, with the company announcing a roadmap of even faster chips running at 22 and 20 nm.
The 28 nm chips promise to provide approximately 40 percent higher performance within the same thermal envelope, delivering improved application performance and enriched multitasking capabilities on mobile devices, a 30 percent reduction in power consumption, and a 100 percent increase in standby battery life.
The chip provides a fully optimized ARM Cortex-A9 physical IP suite, including a full range of standard cell libraries, high-speed cache memory macros for L1 and density-optimized memories in other areas.
Production of the SoCs (system on chips) will begin during the second half of this year at Globalfoundries' Fab 1 in Dresden, Germany.
Globalfoundries also provided its first timeline for the production of even smaller processors. The company's 22/20nm technologies will offer a "full node shrink" from 32/28nm, utilizing next-generation HKMG (high-K metal gate) technology and strain engineering "to enable the area and die cost scaling the industry has come to expect with each technology generation," the company says.
According to the manufacturer, "test chip shuttles" using 22/20nm technology will begin running in its Dresden, Germany-based Fab 1 in the second half of 2011. "Risk production" is set to begin in the second half of 2012, the company added.
For much more read WindowsforDevices.com.