In a blog post Qualcomm has claimed its new topline processor, the SnapDragon 820, which features new custom-built, highly optimized cores designed for heterogeneous computing, will offer up to double the performance and battery life of the SnapDragon 810 processor currently in many flagship handsets.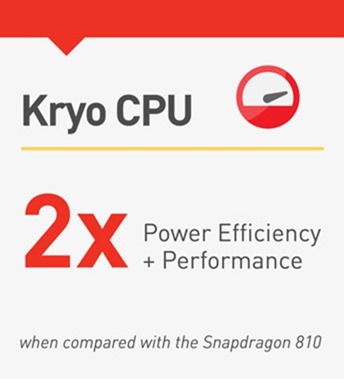 Heterogeneous computing means the ability to combine different functional cores of the system-on-chip (SoC), like the CPU, GPU and DSP cores, rather than using the same core for different tasks.
The Qualcomm Kryo is a 64-bit quad-core CPU built on the latest 14nm FinFET technology and can run up at up to 2.2 Ghz and is tightly integrated with the Adreno 530 GPU and Hexagon 680 DSP.
To harness all this power the Qualcomm chip will feature the new Symphony Manager, which is designed to manage the entire system-on-chip in different configurations so that the most efficient and effective combination of processors and specialized cores are chosen to get the job done as quickly as possible, with the least amount of power.
For example, when a user is taking a picture, Symphony responds to the system demand making sure that the right components are powered up running at the needed frequency and only as long as needed. These components include CPU, Spectra ISP, Snapdragon Display Engine, GPU, GPS, and memory system.
Handsets running the new processor are likely to debut only in the first half 2016.
Read more about Qualcomm's innovations at their website here.
[via link="http://thenextweb.com/mobile/2015/09/03/the-new-snapdragon-processor-promises-double-the-performance-and-battery-life-for-mobile-devices/"]TNW.com[/via]