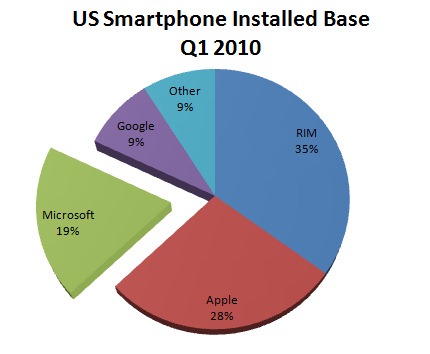 Windows Mobile handsets may be outsold by most other mobile operating systems at the moment, but a legacy of nearly a decade of smartphone sales means that 19% of US smartphone owners own Windows Mobile handsets.
This is still well ahead of Android at 9% in a Q1 2010 Nielsen survey of smartphone owners. 
RIM had the lions share at 35%, followed by the iPhone at 28%. Both Apple and Google added 2%, while Microsoft and RIM lost the same amount compared to the previous quarter.
Whether Microsoft can leverage this installed base to give Windows Phone 7 a early boost remains to be seen, but what is certain is that there are still many millions of Windows Mobile users out there looking for the next latest greatest handset.
Read more at Wall Street Journal here.